---
Makeup brushes are an integral and important part of the makeup process. These makeup brushes come in various sizes and shapes according to their usage as well as there are many brands who are providing makeup brushes. But before purchasing makeup brushes, you need to know about the types of makeup brushes along with their usage and recognition criteria. In this article, we will discuss 18 types of makeup brushes along with their usage.

Different Types Of Makeup Brushes
Every makeup style or type has a different brush for implementation; this is the reason why these brushes are divided into different types. The following is the list of various makeup brushes available in the market.
Foundation Brush
Concealer Brush
Blending Sponge
Stippling Brush
Angled Blush Brush
Powder Brush
Angled Brush
Contour Brush
Highlight Fan Brush
Blending Brush
Eye Liner Brush
Eyeshadow Brush
Bronzer Brush
Lip Brush
Mascara Brush Or Spoolie
Blush Brushes
Eyebrow Brush
Kabuki Brush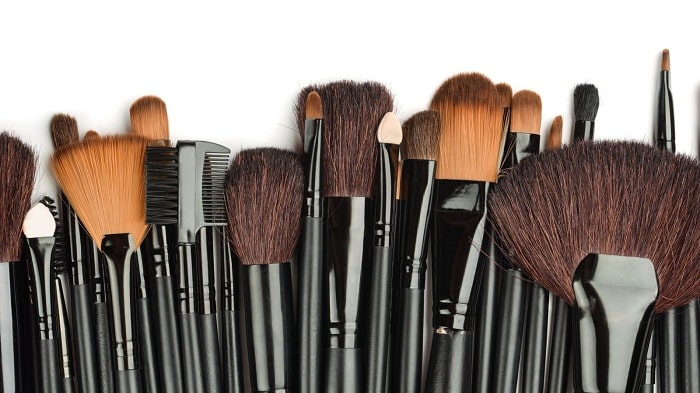 1

Foundation brush

Foundation is the most basic step of makeup, so as foundation brushes. Foundation brushes make sure the implementation of foundation in a smooth and perfect way. It is very important to choose a high-quality foundation brush to blend the foundation perfectly and smoothly. But if you choose a wrong foundation brush, then it will become a disaster for your makeup and ended up with the artificial looks. The following are the two types of foundation brushes:
1)     Real Techniques Foundation Brushes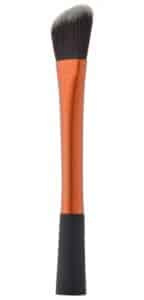 This foundation brush is presenting by Real Techniques that are carefully designed to keep the expert's choices in mind. This foundation is chosen by experts because it gives smooth and flawless results.
2)     Japonesque Foundation Brush
This foundation brush is made with synthetic fibers, which help to get the perfect natural foundation implementation. It covers the lines, pores, and crevices. It is very handy due to its cute small handle and considered best for traveling.
2

Concealer Brush

A concealer is a fascinating brush to make all the face spot corrections. Concealer brushes are used to apply concealer to your skin naturally. While using this brush, you don't need to blend the concealer because it automatically picks the correct amount of concealer. For the perfect look, just pat the brush on your skin, and you are ready to go. The two best concealer brushes: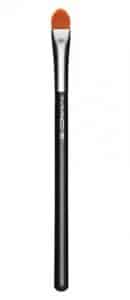 The concealer brush made by MAC 195 is a perfect high-quality concealer brush. This brush has flat bristles as well as a pointed tip. The brush helps you get the natural and flawless looks.
2.) Real Techniques Detailer Brush

The fibers in this brush by Sam and Nic Chapman have been decisively sliced to target issue regions. It mixes every one of your flaws easily. The real technique brush is also the first choice of many makeup experts.
3

Stippling Brush

This is another brush that you can use for your base makeup. While the foundation brush causes you to get the item onto the skin easily, the stippling brush gives you a digitally embellished look. On the off chance that you cautiously watch the brush, you would see that the parts of the bargains are light and padded when contrasted with the base.

The following are two best Stippling Brushes:
1.) E.L.F. Stippling Brush
E.L.F. has been perhaps the best creator of stippling brushes, so it's no big surprise that they made it to this rundown a few times, and which is all well and good. This is an antibacterial, engineered haired Taklon that can be utilized for both dry and wet items.
2.) Real Techniques Stippling Brush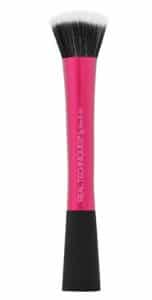 This stippling brush by Real Techniques is a double fiber brush. It contains two kinds of fibers of various lengths that help you accomplish that artificially glamorized look you long for. Furthermore, the fibers are so delicate; they feel like plumes on your skin.
4

Angled blush Brush

Angled blush bush is one of the most used brushes because brushing is something which is one of the most important parts of the makeup process. The brush empowers you to pick up the product and then dust it on the cheeks for the natural look.

The two best-Angled blush brushes are as follows:
1.) Sigma F84 Angled kabuki Brush
This brush has been made with Sigma's mark Sigmax strands, which make it fantastically delicate and thick, making it simple to get the item. The brush conveys a smooth, faultless, and superior quality completion. It works incredibly with both cream and powder bronzers.
The fibers from this brush by E.L.F. are delicate and thick to assist you with applying to shade effectively in a broad movement. Utilize the brush to apply the item onto the apples of your cheeks and compass it towards the ear.
5

Powder Brush

The main motive of the powdered brush is to dust the right amount of the loose or compact powder on the skin, without creating a ghost-like or artificial look. A decent powder brush will enable you to set and clean up your cosmetics. The two best powder brushes are as follows:
The Suqqu Face Brush is uniquely intended to spread the powder uniformly on the face. With a brush, this way, looking powdery can be kept away from. It grabs a decent measure of the item and disseminates it everywhere throughout the face, making it look as normal as could reasonably be expected.
2.) Real Techniques 100 Arched Powder Brush
Real Techniques has made it to the rundown, once more! You shouldn't be astonished now. Try not to try and kick me off on the Bold Metals Collection. They are completely stunning and tastefully satisfying. This brush is from the Bold Metals Collection. The fibers are molded in a vault with the goal that it can clear the item over the face easily.
6

Angled Brush

An angled brush can be used for many different areas like eyebrows and eyeliners. The angle of the brush fills in eyebrows in your preferred state. The sharp finishes additionally make it helpful to draw out an incredible winged liner.

The following are two Products of the Angled brush
Sigma concocted a short, hardened brush that is cut at simply the correct edge to help you in making your brows look immaculate. A brush like this gives you unlimited oversight of how you need your foreheads to look.
2.) By Terry Angled brush
The fine hair on the brush adjusts to your style of stroke and the medium, regardless of whether it is fluid, powder, or cream. It enables you to accomplish that "eyebrows on fleek" look.
7

Contour Brush

Contour is one thing that, at any expense, should not be possible without a brush. Furthermore, If you figure out how to do it, you'd most likely wind up resembling a mud design. Many individuals realize how to utilize a contour brush. A contour brush will have firmer fibers than a redden brush and a progressively angled tip. It is uncommonly intended to enable you to focus on the territories that you need to contour and shape.

The below-stated are two best contour brushes:
1.) Charlotte Tilbury Powder and Sculpt brush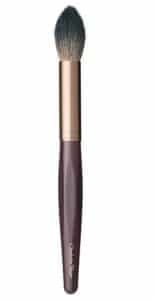 Experts state that using this brush makes you feel like a professional. This brush is perfect for chiseling the face, regardless of whether it's for forming or featuring. The parts of the bargains are decreased and enable you to form the hollows of the cheeks, the sides of your nose, and your facial structure to give you a sharp, yet delicate look.
2.) Nars #21 Contour brush
Another phenomenal choice is from Nars. Nars is progressive with regards to cosmetics, and they've surprised the world. Along these lines, we realize that anything that is going to originate from Nars will be a genuine victor.
8

Highlight Fan brush

The fibers in a fan brush are explicitly intended for highlighters. The fibers are spread out with the goal that the brush grabs a limited quantity of the item. It is then somewhat tidied on the highest point of the cheekbones and different regions of the face that should be featured. It is ideal to go in with a light hand to abstain from utilizing an excessive amount of item.

These two are best to highlight fan brushes:
1.) Smashbox Fan brush #22
This fan brush by Smashbox is a genuine boss for featuring. The brush grabs only the appropriate measure of the item and gives the ideal completion.
The Sigma F41 Fan Brush works with cream, fluid, and powder highlighters. The light fibers of the brush help in conveying the item equitably, so the item doesn't wind up looking inconsistent or cakey.
9

Blending Brush

A blending brush is an unquestionable requirement has with regards to brushes. This is something you can't utilize your fingers for. A decent Blending brush will assist you with softening out any unforgiving lines after the use of the eye shadow. The secret to the ideal eye shadow look is to mix, mix, and when you think you've mixed enough, mix once again to accomplish flawlessness.

The best two blending brushes as follows:
When somebody says 'blending,' the main brush that springs up in my mind is the MAC 217 blending brush. You will see this brush in pretty much every cosmetics craftsmen's accumulation and in at any rate in one video of each and every YouTube magnificence symbol. It's one of those 'must-have' things. Need to abstain from resembling a raccoon when you're attempting to nail a smokey eye? Try this!
2.) Japonesque Eyeshadow Crease Blending Brush
Japonesque is a go-to mark with regards to cosmetics brushes. The fibers on this brush are delicate and thick, which is a decent mix on the off chance that you need your eye cosmetics to look impeccable.
10

Eye Liner Brush

Do you know those Instagram video instructional exercises of penetrating winged eyeliners? Better believe it, well they didn't do that with simply any brush. You need a specific eyeliner brush so as to arrive at that degree of flawlessness and exactness. The eyeliner brush is intended to get and store the required measure of the item while giving you the most extreme control.

These are the two best eyeliner brushes:
1.) MAC 210 Precise Eyeliner Brush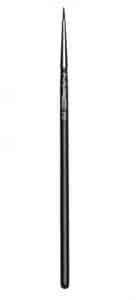 It's nothing unexpected that the MAC 210 brush has made it to this list. Three out of five cosmetics craftsmen would haul out this trusty thing on the off chance that they need a come up short verification method for reproducing the ever sensational winged liner look. The extra-fine tip has the ideal length and thickness for coating the eyes.
2.) Real Techniques Silicone Eyeliner Brush
No doubt this brush is expected to pop up your eyeliners. Truly, everything by Real Techniques merits a remarkable notice. This brush has the ideal length and thickness for drawing out your preferred eyeliner style. It functions admirably with fluid, gel, or cream liners.
11

Eyeshadow brush

An eyeshadow brush causes you to apply eyeshadow, regardless of whether it be as cream or powder, easily and with exactness onto your eyelid. A decent eyeshadow brush will get a better than average measure of the item and will enable you to pack it onto the eyelid with insignificant aftermath.

The following are two best eyeshadow brushes:
1.) Bobbi Brown Eye Sweep Brush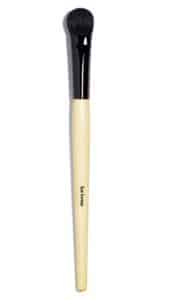 In case you're searching for a decent brush that will get a decent measure of shading, look at this. The brush causes you to apply the item onto the eyelid and causes it to show up profoundly pigmented. It works very well when managing overwhelming sparkle.
2.) Sephora Pro Shadow Brush
Apply eye cosmetics like a master with the Pro Shadow Brush by Sephora! The fibers are only the ideal surface for both pressing and mixing out eyeshadow.
12

Bronzer Brush

A bronzer brush is adjusted and disseminates the item equitably. A major cushioned brush for bronzing encourages you accomplishes that normal, sun-kissed look.

The two best Bronzer brushes are stated as below:
1.) Ecotools Bamboo Domed Bronzer Brush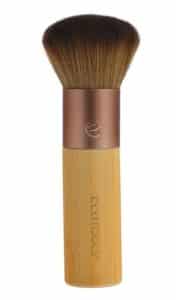 The rich, round leader of the brush gives you a chance to make a characteristic bronzed look as if you have recently come back from an excursion from the Maldives! The fibers are unimaginably delicate and light manufactured, and the handle is produced using bamboo. EcoTools highly esteems being sans savagery and condition agreeable.
2.) Real Techniques Retractable Bronzer Brush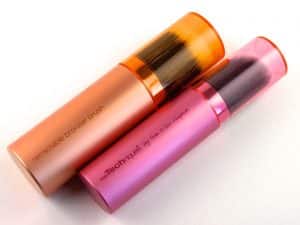 An awesome alternative for when you are in a hurry, the Retractable Bronzer Brush by Real Techniques allows you to withdraw and cover the brush so it can fit in any sack. The brush comprises of two fiber types that help you mix like a star.
13

Blush brushes

Not at all like the angled redden brush, this one isn't angled. This is to some degree like a powder brush, yet increasingly adjusted and compacted to get the pigments of the blush. The fibers are intended to permit mixing so that there are no brutal lines.

The following are the two best Blush brushes:
1.) Sonia Kashuk Domed Blusher brush No. 29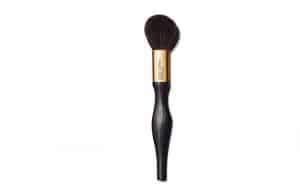 The brush is vault molded, which makes it perfect for twirling the brush over the cheeks. This brush is easily available in the market, and you can also buy it via online stores.
2.) Illamasqua Blusher brush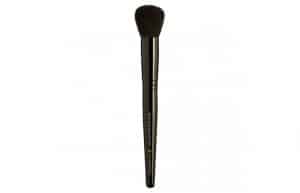 The fibers are fantastically delicate and can be utilized for cream, fluid, and powder reddens. The short fibers are there for the exact situation of the item, and the more extended fibers make it simple to mix the item. The brush is hypoallergenic and reasonable for all skin types.
14

Mascara brush or Spoolie

You may realize how to pick the best cosmetics brushes, yet what about a brush for your lashes or brows? Obviously, you can utilize the wand that accompanies the item when you buy it, yet on the off chance that you are amazingly explicit on how you need your lashes to look, at that point a mascara brush is the best approach.

The two best mascara brushes are as follows:
1.) M.A.C. Disposable Mascara wand
Any item from M.A.C. needs no presentation, and the equivalent goes for this one. Sold in a pack of 20, these winding wands are clean and are perfect for any individual who is incredibly explicit about the kind of mascara wand they use.
2.) Sephora Disposable Mascara wand
Containing 12 expendable silicone wands, these brushes are of various kinds that suit certain necessities. There are brushes only for protracting, volumizing, twisting and characterizing. Pick a brush of your decision, use it, and discard it. This gives you a chance to dodge all the wreckage and keeps your mascara spotless and clean.
15

Lip Brush

The greater part of the occasions, we either utilize the doe brush that accompanies the lip items or applies them legitimately. Be that as it may, in the event that you need accuracy and consummately lined lips like you find in cosmetics instructional exercises and photograph shoots, a lip brush is an absolute necessity.

Below-stated is two best lip Brushes:

Ideal for in a hurry, this brush is retractable, which implies that you can bear it in your sack. The fibers are deliberately gathered to enable you to accomplish the ideal lip cosmetics look.
2.)Real Techniques Retractable Lip Brush
This one by Real Techniques is likewise a retractable brush. Perfect for lip stains and lipsticks, the fibers are very firm to give you the accuracy required to acquire a slick outcome.
16

Eyebrow Brush

A couple of well-characterized brows can improve your appearance and help you right away accomplish a stylishly satisfying look. Likewise, characterized brows outline your eyes and feature your best highlights. An inclined liner brush, otherwise called the angled brows brush, is utilized to apply eyebrow filler. An eyebrow brush or a spoolie brush is utilized to tame and shape foreheads subsequent to filling them in.

The below stated are two best eyebrow brushes:
1.) EcoTools Brow Shaping Duo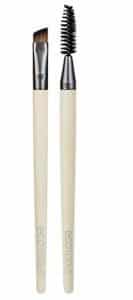 This eyebrow brush set from EcoTools incorporates two brushes to style, characterize, and keep up impeccable brows easily. Utilize the angled liner brush to apply your forehead item or gel and utilize the spoolie to brush and smooth out stray brows. These brushes are delicate, yet firm, enabling the fibers to get and disperse item uniformly.
2.) Keshima Duo Eyebrow Brush
This expert 2-in-1 brush suits an angled brows brush on one side and a spoolie brush on the other. It's firm fibers are ideal for molding, characterizing, and prepping your eyebrows. This brush is made with manufactured hair and top-notch materials. It is lightweight and has a long wooden handle to make the activity of forehead preparing simpler for you.
17

Kabuki Brush

Ever pondered what a kabuki brush does? A kabuki brush is generally used to apply free powder on huge regions of your face. Because of its size and plan, the brush mixes your powder establishment super uniformly on your skin and makes an exceptionally normal-looking inclusion. You can likewise utilize this brush to mix, buff, or stipple fluid or cream establishments for a definitely more normal and sheer inclusion than what you accomplish with an ordinary establishment brush.

These two are the best Kabuki brushes:
1.) Real Technique Retractable Kabuki Brush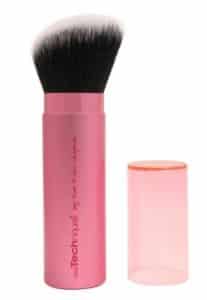 In case you're searching for an amazing kabuki brush at a sensible value, this one from Real Techniques takes the cake. It's made of manufactured fibers and can be utilized alongside a wide range of recipes.
2.) Too Faced Kabuki brush
Too Faced's kabuki brush looks and feels marginally fancier than the Real Techniques brush. It is additionally retractable and housed in a smooth pink case. It is made with teddy bear hair, which is a very delicate, elite, and sumptuous fiber that gets and mixes colors for all the more genius like application. Its engineered filaments apply wet and dry equations adequately.
18

Makeup Sponge

Women, cosmetics wipes are a distinct advantage. In the event that you use them right, your skin will resemble that Instagram channel you adore spring up. You must wet your cosmetics wipe, crush out overabundance water, and afterward apply your establishment by delicately tapping it onto the skin. Next, mix it in utilizing tapping movements. Results? It makes an enhanced with Photoshop completion, and your skin looks staggering.

These two makeup sponges are best among all: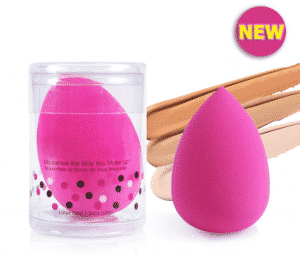 The O.G. cosmetics wipe of our occasions, or the Beauty Blender develops to about twice its size when wet. It assimilates negligible item, so your preferred establishment arrives all over and not your wipe. Whenever wet, its delicate material gives an even, smooth mix and ricochet. It's huge; adjusted side guarantees fast application while the formed tip offers accuracy.
2.) Fenty Beauty Precision Makeup Sponge
This 3-sided, sans latex cosmetics, wipe from Fenty Beauty by Rihanna is ideal for applying and mixing an assortment of recipes. You can utilize its inclined edge for controlled stippling, the adjusted end for all-over buffing, and the scaled-down moon edge for focused inclusion (like your under eyes.) No issue the recipe – cream, fluid, or powder – this wipe enables you to redo your inclusion consistently, each and every time.
Learn How To Use Makeup Brushes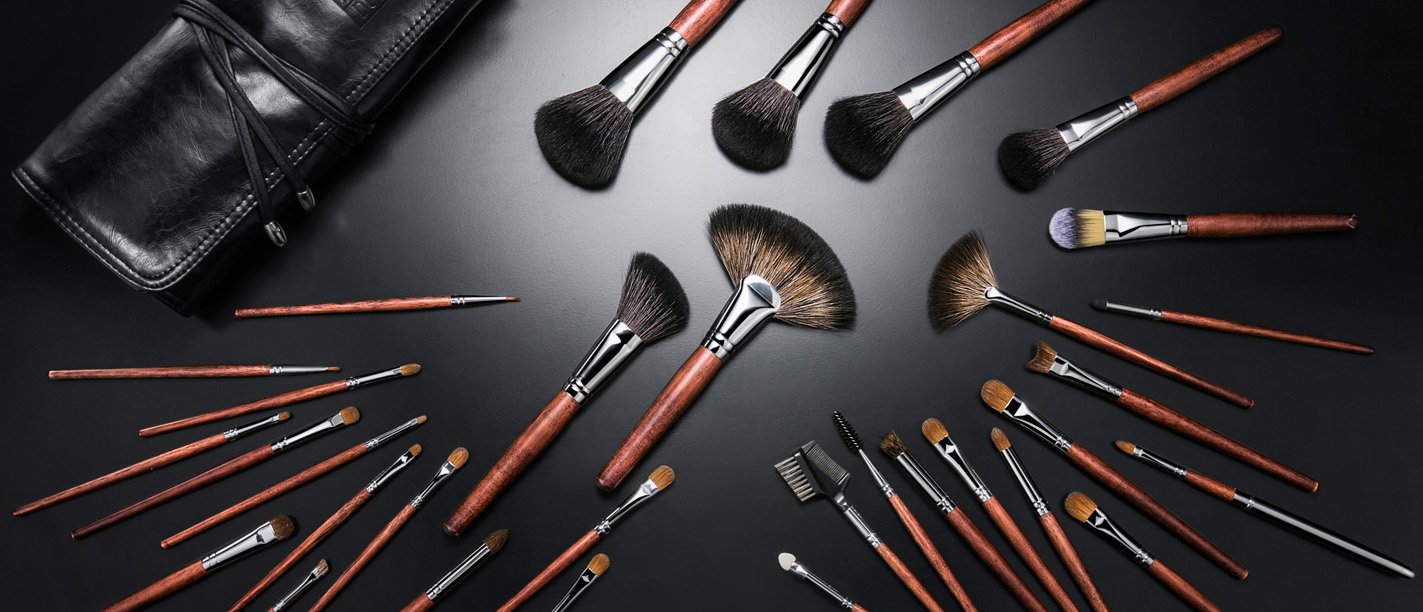 How To Use Makeup Brushes For Beginners
Conclusion
There, you have it! These are the various kinds of cosmetics brushes that you have to think about going to realize what you're doing with regards to cosmetics! Along these lines, since you realize how to utilize cosmetics brushes, be the perfect diva that you are.
18 Different Types of Makeup Brushes And Their Uses