---
From the very beginning of my childhood, I love mehndi a lot. It is the best art of applying on our hands and feet. Due to my immense interest, I gathered information on my favorite Mehandi from many sites. In fact, this Mehandi is treated as a ritual in many auspicious occasions in all the parts of our country. Especially during wedding occasions, the celebration of a bridal wedding is nothing without Mehandi ceremony too. This kind of henna art to the bride looks extraordinary with bright red color.
I feel so lovely when going through traditional designs of mehndi are made in the bride's hands. Of course, it is made essential too. Followed by my research on different websites, I also came to know about different patterns of henna in different styles are found in order to make the art looks very beautiful too. It includes floral patterns, line patterns, etc. This henna is typically grown in Africa, Australia, and some parts of Asia as well. This kind of herb is known as camphire. The bushes of this henna leaves are grown in almost dry and hot conditions too. These leaves of henna are used for hair conditioning purpose as well other than applying to hands by grinding it.
History
Literally, I concentrated on how its origination has been taken place. I come to know that it is Mughals those who propagated this Mehandi to our India during 12 century AD. Approximately around 5000 years ago we were using this art of Mehandi during our traditional occasions especially. I even noticed that on those days, beauticians, artists are solely responsible for designing fabulous crafts of Mehandi. Moreover, this word mehndi is derived from Sanskrit language namely mendhika.
Now coming into the depth of this Mehandi origination, it is mainly derived this art form from Egypt as we all know that henna relies on high medicinal values. I usually apply it for my hands, feet and also for my hair too. It gradually acts like a healing agent to all the age group. But according to research, I come to know that the existence of beautiful design patterns of applying Mehandi in India has been taken place during the 20th century only. In fact, many women used to implement this Mehndi until then.
But patterning of beautiful arts in its application on hands is emerged on later just. I even go through to identify what is the exact date and place of Mehandi origin takes place. I found no correct answer to it. Mainly all the people from different countries are using this Mehandi since many years ago in all the form of arts.  In fact, the best example is I earlier stated that Mehandi is used not only for hands and feet but also for hair dye and conditioning purposes.
Different Types Of Mehndi Designs List
Indian Mehandi is the best mehndi designs that suit especially on traditional occasions. There are many Indian designs found in the market that includes full-length Indian mehndi designs, glamorous, mesh pattern; backhand Mehandi designs suit the best to apply on family functions, festivals and all kinds of parties, etc. These designs are widely popular in almost all the Asian parts of the country.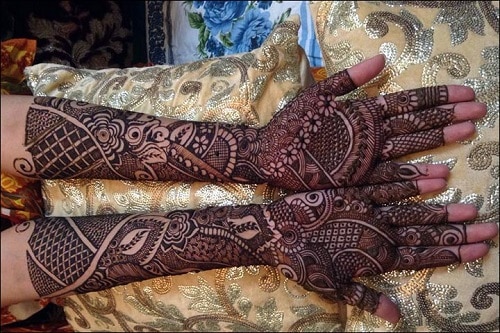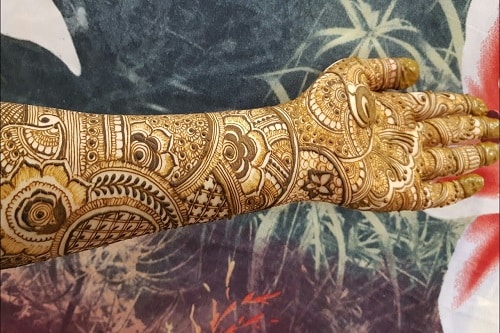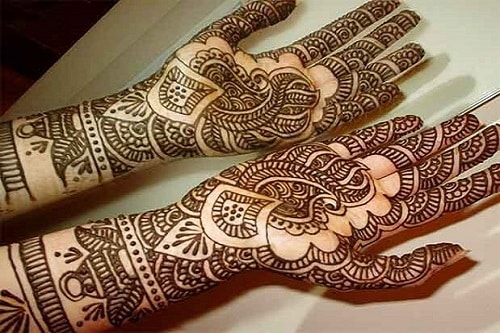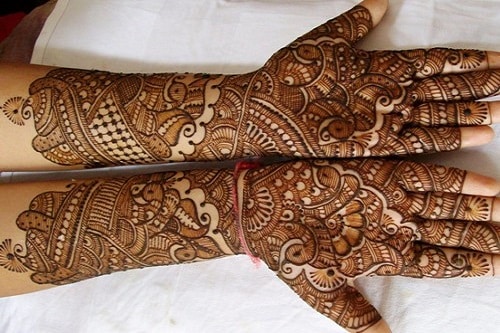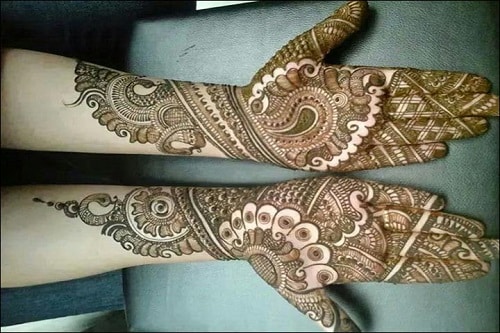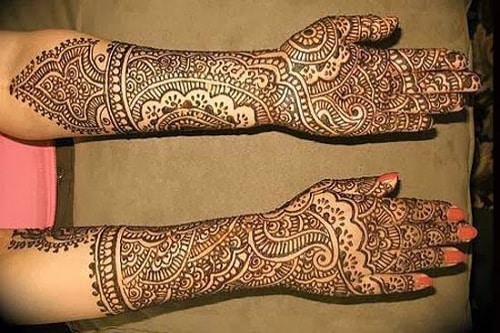 These designs are also the best option for wedding occasion. Choosing different design patterns is really very tough as there are different patterns in this kind of plans actually. Many girls prefer floral delight design a lot during traditional wedding occasion. But some may prefer Arabic designs for backhand, and front end rose motifs as a sweet perfume in the Arabic culture and so on. There are many Arabic designs found in the list that suits the Mehandi to apply on different occasions.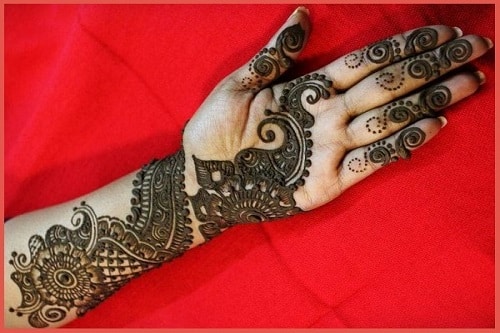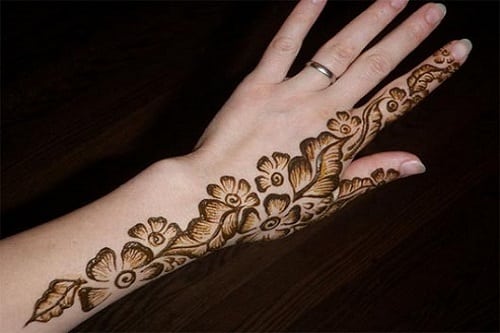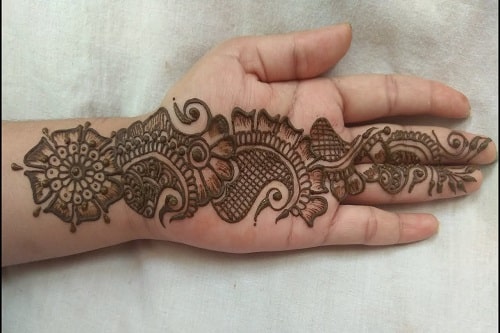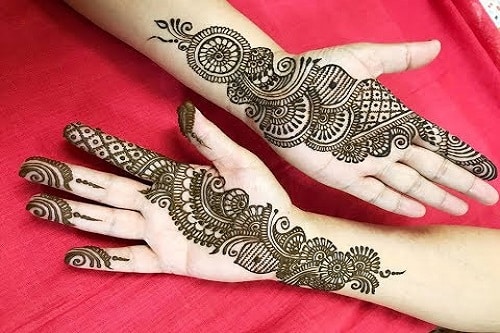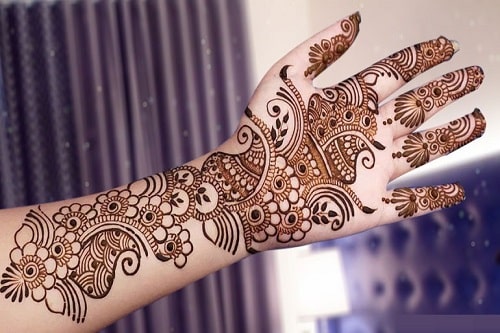 Indo- Arabic Mehandi Designs
As we all know that Mehandi plays a crucial role in almost all the occasional wears.  These mehndi designs look like floral and delicate prints pattern, and you can happily apply on your hands. These designs are used on any occasion, festivals widely. Especially many women along with their friends prefer these designs on the eve of Ramzan festival. These designs look simple and styling too.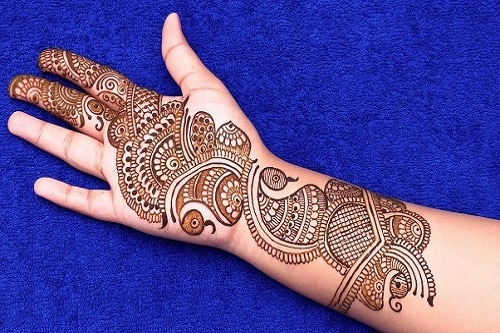 These mehndi designs look black in color compared to Indian Mehandi designs that result in red in color. But Pakistani women apply this Mehandi on their marriage occasions or engagement occasions to represent their love and romance symbol on their hands like half heart in one hand and another half in the other hand. These mehndi designs are extremely different too. They prefer these designs to decorate hands and feet so romantically.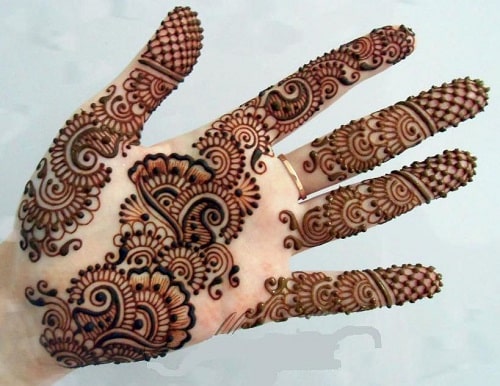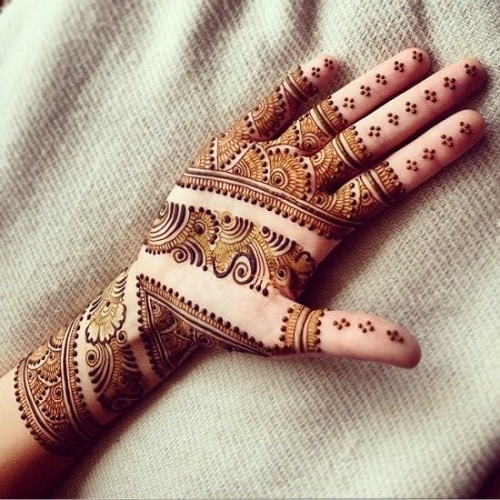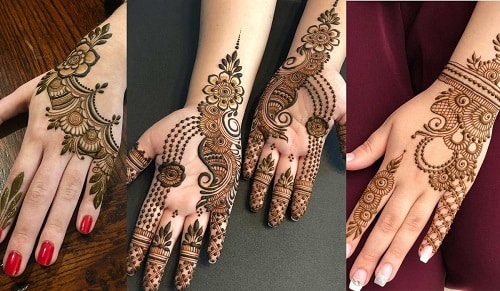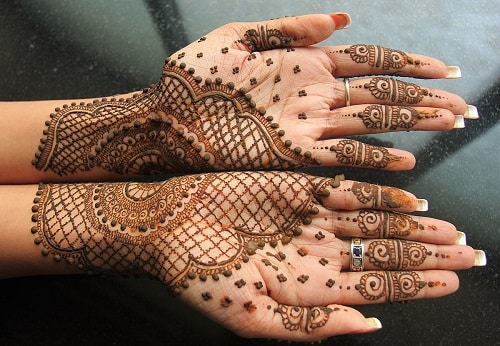 This tattoo designs really look like a tattoo applied to hands with Mehandi. This kind of Mehandi designs is quite common in Middle East countries and Asian countries too. Even though it looks like a tattoo, it is applied with henna in traditional wedding occasion only but it varies with its pattern seems just. This mehndi lasts for almost 2 weeks as well.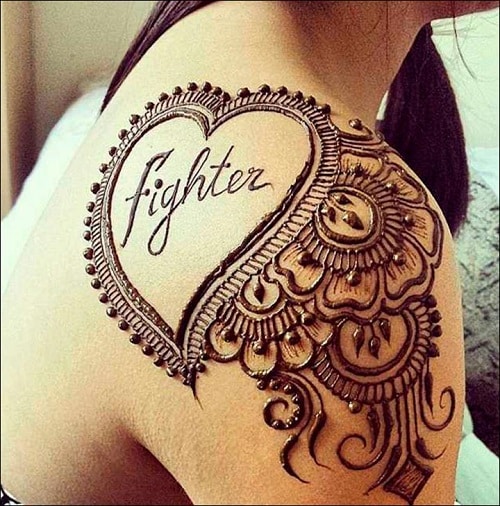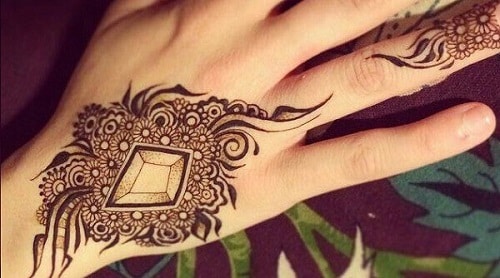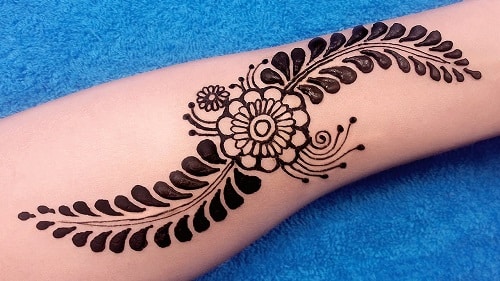 Indo Western Mehandi Designs
These designs are a combination of east and west design patterns of applying Mehandi. These designs are not preferable to traditional weddings. In fact, it is a complete western style. It suits the women those who love western styling and fashion. You can observe these designs on the current movie songs especially boldly wood songs. It is undoubtedly noticed these tattoos like Mehandi designs in almost all films. Due to its greatness, its designs look so styling and beautiful as well.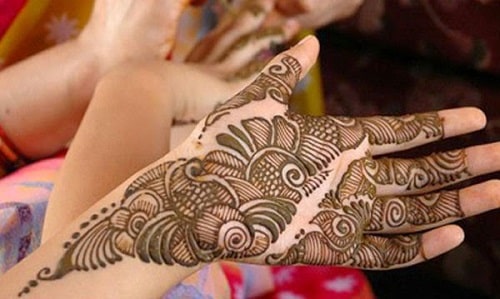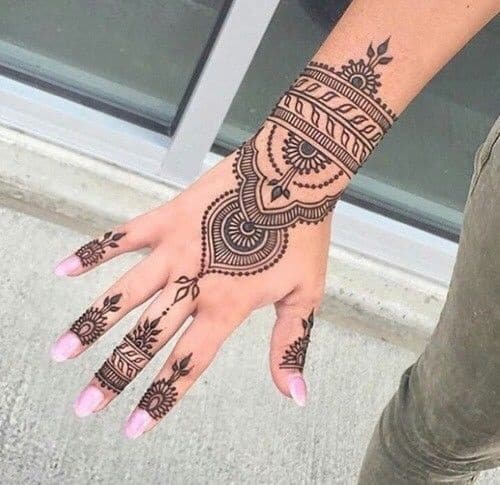 Actually, these types of Mehandi look like a tribal tattoo. Compared to other design patterns of this Mehandi, it is not relatively equal to the remaining ones existed. The designs are like a line pattern which looks so awesome. These designs are extremely loved by men as it seems like a tattoo in western looks. But somehow in this modern technology, even girls are fascinated by tattoos. These designs are popular now in many occasions.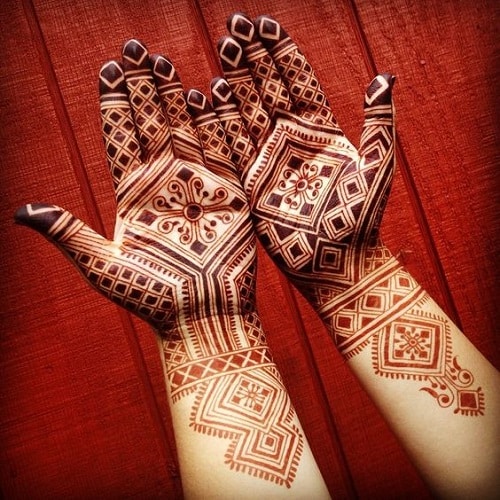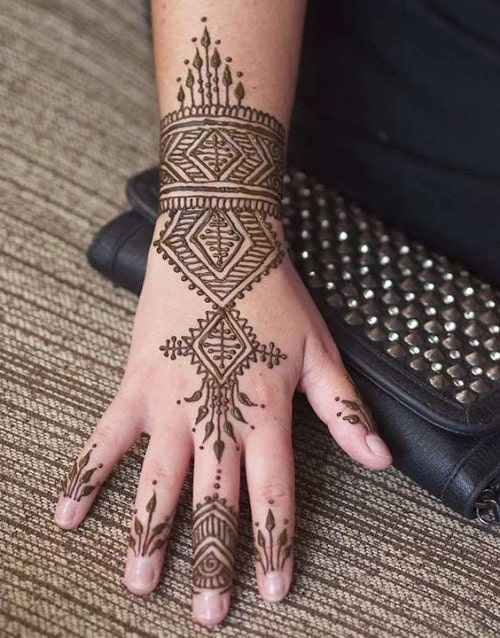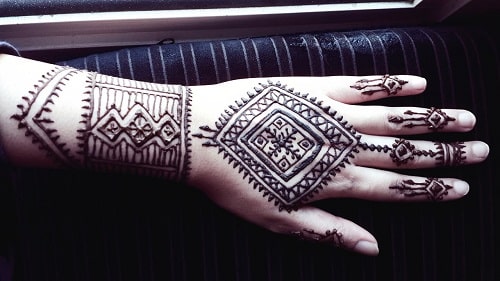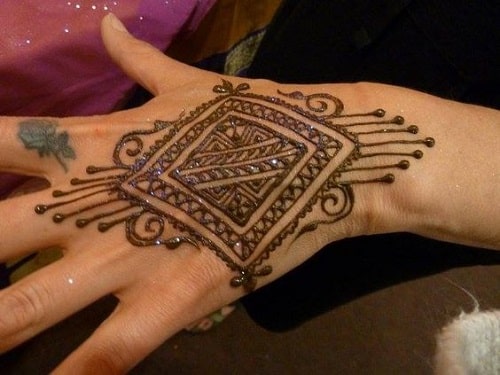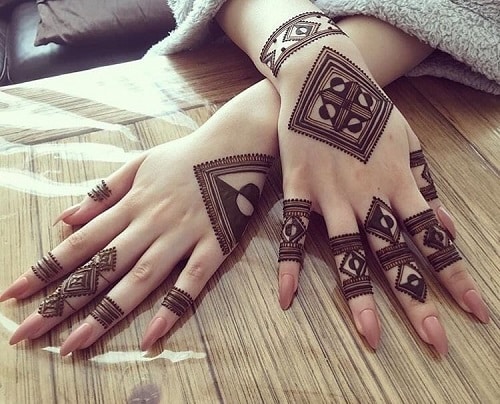 The name usually states that these designs are mostly known for applying mehndi on wedding occasions. It has a high demand in almost all countries. This is why many Indian marriages are keeping a place for the Mehndi ceremony. It acquires immense popularity even though it has become old in traditional fashion during weddings. Also though these designs look very decorative and it comes with different creative designs too.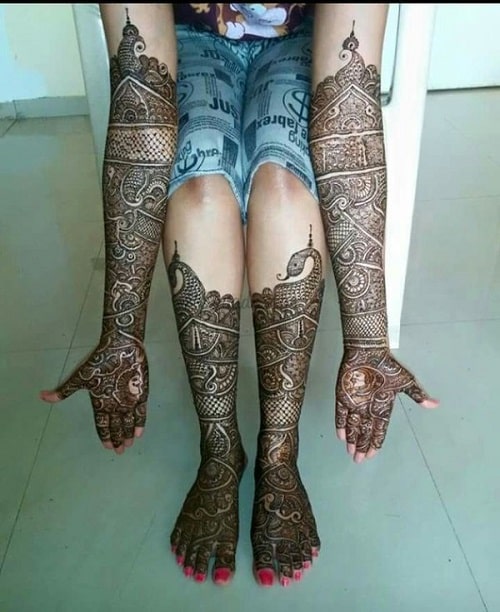 This is the best design made especially for brides. Millions of traditional brides prefer this design as their best choice. These designs are mostly seen in India, Pakistan, and Arabic like countries. These designs especially look like rose flower designs, petals designs, etc. These designs are well known for traditional mehndi designs that usually project the beauty of nature especially.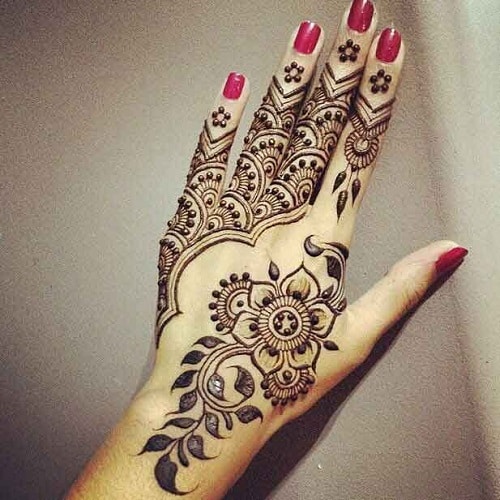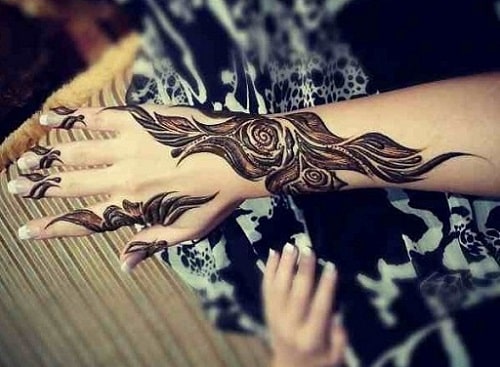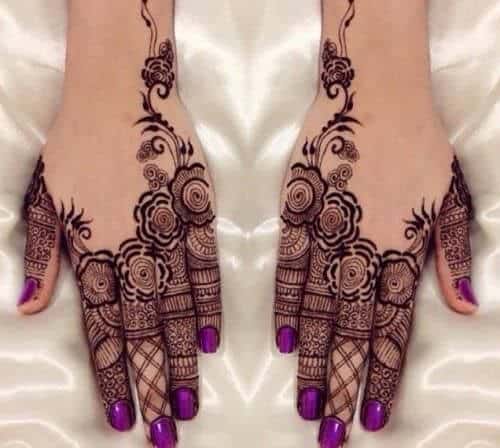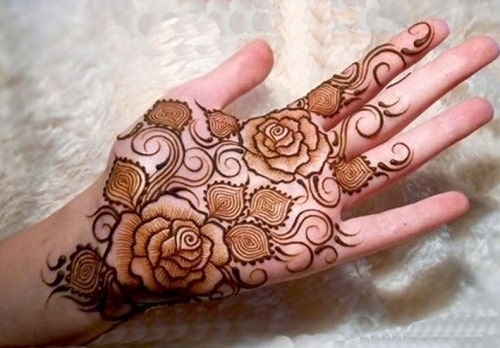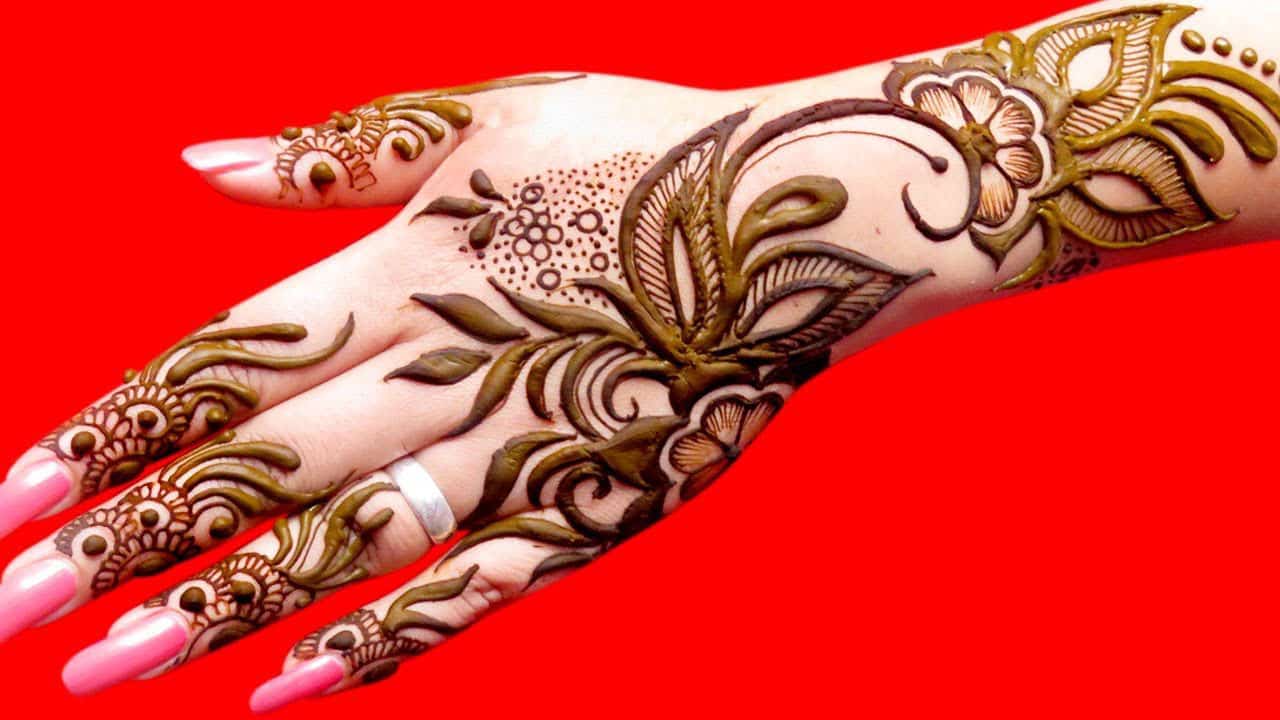 In the name itself, each and every girl is fascinated towards glitter designs. Even today many girls used to apply glitter nail polish to that looks trendy too. Similarly applying glitter Mehandi is the current fashion today where it is the perfect apt Mehandi designs especially for parties and marriages. It deserves the best among many too. Especially green and blue glitter Mehandi look fabulous during occasions.
Conclusion
I think during wedding occasions, applying Mehandi paste to bride hands that cool her tension and let her calm down. In fact, I propose this Mehandi to make the bride ready to welcome her new life. Scientifically it is recommended to use this Mehandi for keeping your excess stress into control. I hope this may be the reason to participate in Mehandi function to decrease the bride stress levels. I finally enjoy applying different patterns of Mehandi styles, and it is obviously a part of every auspicious occasion traditionally. Till now I discussed many types of designs, based on that I can choose the right one that suits my occasion. Feeling like Mehandi brings not only red color to hands, but it even adds colors to the bride for starting her new life.
2021 Latest Mehndi Designs And Different Types Of Mehndi